THE DANNER RESURGENT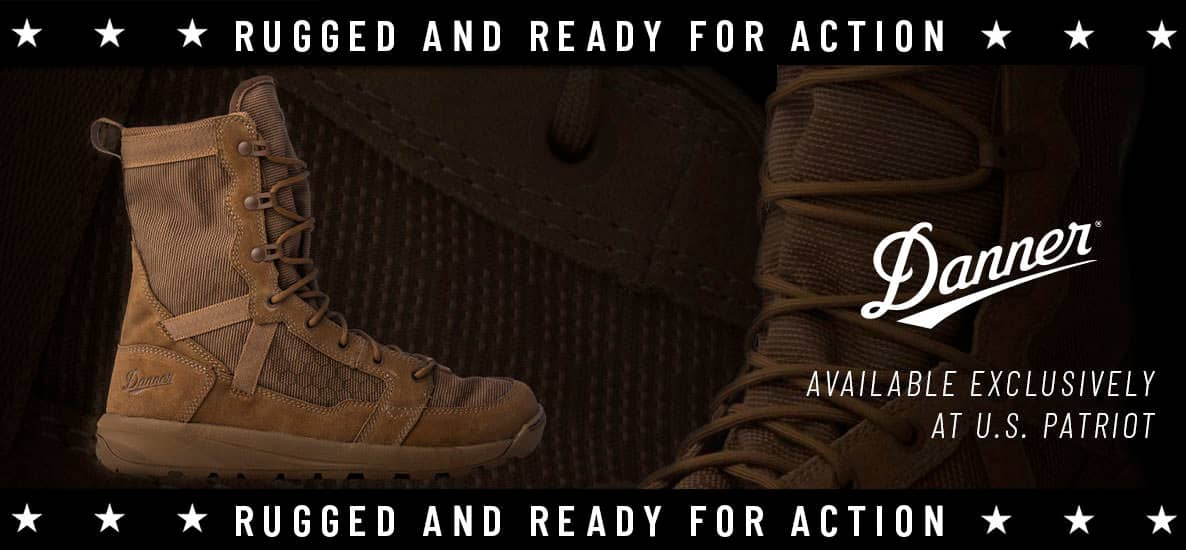 U.S. Patriot Exclusive
Danner Boots have been a household name in the industry for decades. These clean, stylish boots offer some of the best comfort and support in the tactical industry. Danner is one of the most popular and trusted brands that U.S. Patriot carries, with customers showing an unparalleled level of brand loyalty. From what we've seen online and in-store, once a customer finds a pair of Danner boots that work for them, that's all they buy from that day forward. It's with that sense of commitment that we are proud to announce the newest Danner boot, exclusive to U.S. Patriot. Ladies and gentlemen, please welcome the Danner Resurgent.
THE DANNER RESURGENT IS GO FOR LAUNCH
We can confess at U.S. Patriot that we've been looking forward to this one for a while. Our friends at Danner clued us in that they were working on a fresh new boot that offered the durability and construction that everyone has come to expect while offering a more modern take on the look and style - and we knew we had to have it. If you're looking for footwear that rises to the occasion in any scenario, this is the boot for you. A stylish hexagonal pattern conceals the Perspair panels that promote airflow to keep you cool and comfortable in hot, arid environments. The sleek build and support this rugged boot offers have service members sprinting to checkouts online and in-store. Made for long marches and fast-moving patrols, the Resurgent helps you stay cool in dry, arid climates. The upper features Perspair® panels, an extremely breathable material woven with PU-coated nylon thread. Opanka stitching adds an extra layer of durability. The lightweight Resurge midsole returns energy with every step to keep you feeling light on your feet. The Vibram® oil-and-slip-resistant outsole has lugs that are designed for fast-paced agility and won't collect dirt as you move.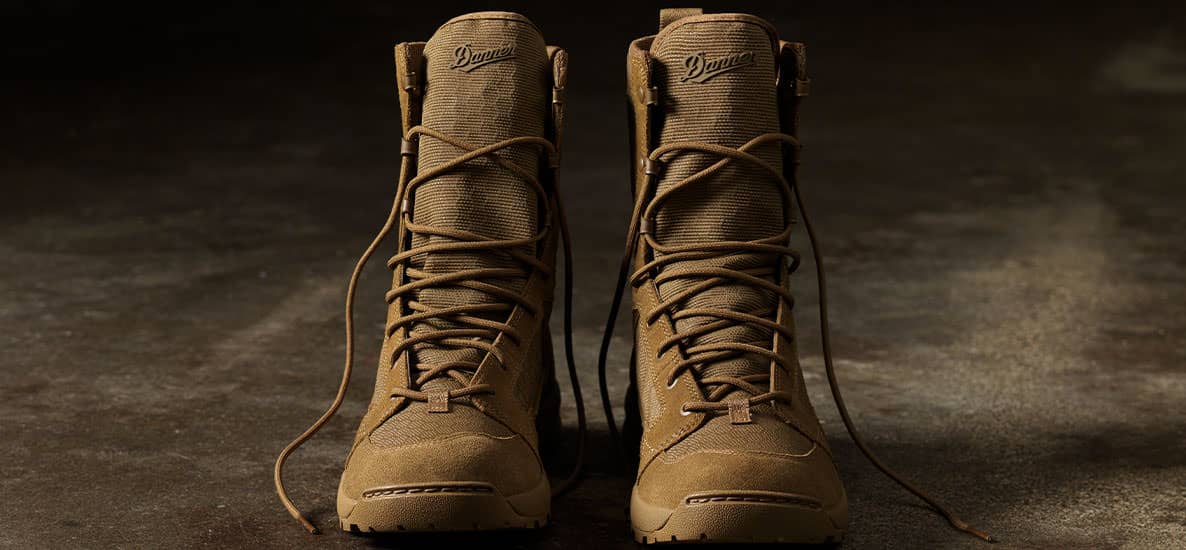 DANNER'S COMMITMENT TO EXCELLENCE
For nearly a century, Danner has crafted boots with purpose and integrity - footwear to equip those who choose the unlikely path, those who cut fresh trails, those pioneer. Like American trailblazers before him, Danner's founder, Charles Danner, went west to pioneer footwear that could withstand the conditions the American logging industry faced. Although Danner was originally an outdoors footwear manufacturer, the company has since evolved to meet the needs of a wide range of customers.
Recently Danner was the preferred footwear of Agent 007. In 'No Time To Die' Bond laced up a pair of limited-edition Danner Tanicus boots to take on Spectre in the conclusion of Craig's film series. The U.S. Patriot faithful surely remember the Win the Boots that Bond Wears campaign from the fall of 2021, where we sent secret agent duffle bags stuffed with everything a growing Double-O could want, Tanicus included. If you're new to Danner and would like to read more about the Tanicus, click here to read the product review on our blog.
Now Danner is pushing their evolution of military and tactical boots even further by introducing the Resurgent. Building off the success of the Tachyon and Tanicus, Danner looked to update the streamlined, minimal look they're known for by adding modernized features and aesthetics. The subdued hexagon pattern conceals some of the best breathable and abrasion-resistant footwear technology the industry has to offer, all chiseled and set into form on top of one of the best chassis ever introduced into the tactical arena.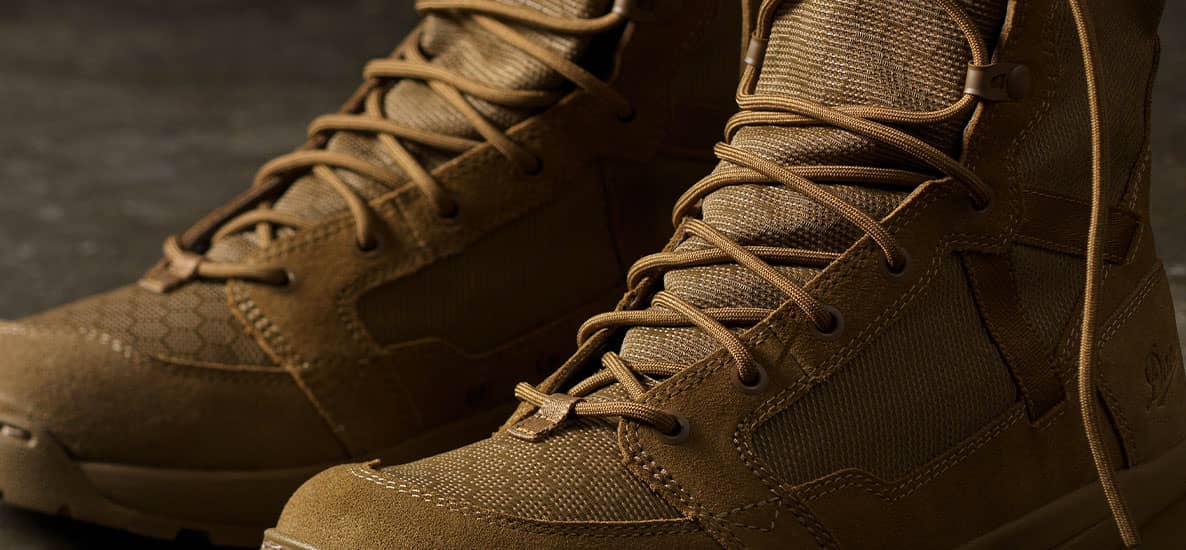 HOW THE RESURGENT FITS INTO THE DANNER MILITARY LINE
While the Resurgent is a game-changing piece of footwear, it's not a product that's been engineered for situations in extreme elements. Here are just some of the comments you can check out on USPatriot.com from some of Danner's most avid and brand-loyal patrons:
" This is my second pair of the Danner Tachy boots. They performed so well for me on my 7-month deployment, I needed another pair. They are incredibly lightweight and comfortable (yes, many top boots have these qualities). It is the style and wider front-toe box that makes these boots #1 for me. They are basically athletic/running shoes disguised as boots." - Andrew, verified customer
" These boots are very lightweight and cater to my flat foot well. Different insoles might need to be used if you need more arch support. Laces are of good quality, and I expect them to withstand the rough terrain in the field." - Kenya, verified customer
" I have been wearing this type of boot since the first Nike version was released. I have worn the Rocky C4Ts, Nikes (2 versions), Belleville MiniMils, and this is my third pair of Danner Tachyons. By far superior quality and lasts much longer." - Max, verified customer
Item Number
50136
50110
55316
Price
$179.95
$160.00
$189.95
Customer Rating
(4.8)
(4.7)
(4.8)
Employee Rating
(4.6)
(4.7)
(4.7)
Pros

AR670-1 Compliant,

AFI 36-2903 Compliant, Lightweight, Comfortable, Unparalleled Grip/Traction

AR670-1 Compliant,

AFI 36-2903 Compliant, Comfortable,

Every Day Use, Affordable

AR670-1 Compliant, AFI 36-2903 Compliant, Lightweight,

Quick & Easy Break-In Period

Cons
Thin Insoles
Not Waterproof
Traction Fades Quickly
Bottom Line
Quick Break-In Period, Great for Office and Field Use. Top Level Combat Boot excels in all metrics.
Blends the best of both the Tachyon and Tanicus in a lightweight, supportive and comfortable piece of footwear ready for every day or field use.
Quickest Break-In Period, Best choice for dry, arid climates where comfort supersedes the need for traction.
Comfort
(4.4)
(4.9)
(4.8)
Stability
(4.8)
(4.8)
(4.6)
Traction
(4.9)
(4.7)
(4.3)
Weight
(4.7)
(4.7)
(4.9)
Water Resistance
(4.4)
(4.4)
(4.6)
Durability
(4.9)
(4.8)
(4.9)
Classification
Lighweight, Everyday Use
Lightweight, Everyday Use
Lightweight, Field Use
Release Date
NEW MAR 2020
NEW AUG 2022
NEW SEPT 2019
FINAL THOUGHTS ON THE DANNER RESURGENT
With its unbeatable grip, Opanka-stitched Vibram Resurgent outsole, and turf-eating pentagonal lugs, the lightweight Danner Resurgent will deliver all-day comfort. With improved airflow and a rugged build, this Danner military boot is AR670-1 and AFI 36-2903 compliant and authorized for wear with OCP uniforms.
It's also worth noting that these boots pair well with Danner TFX Hot Weather Drymax Over-Calf Socks for those interested in advanced odor and moisture control in arid climates..
The Danner Resurgent: Purpose-Built to Outlast Long Hours of Patrol
Eager to learn more about the Danner Resurgent? Dying to hear more reviews from the average enlisted? Read our Product Review on the blog!