THE GARMONT T8 FALCON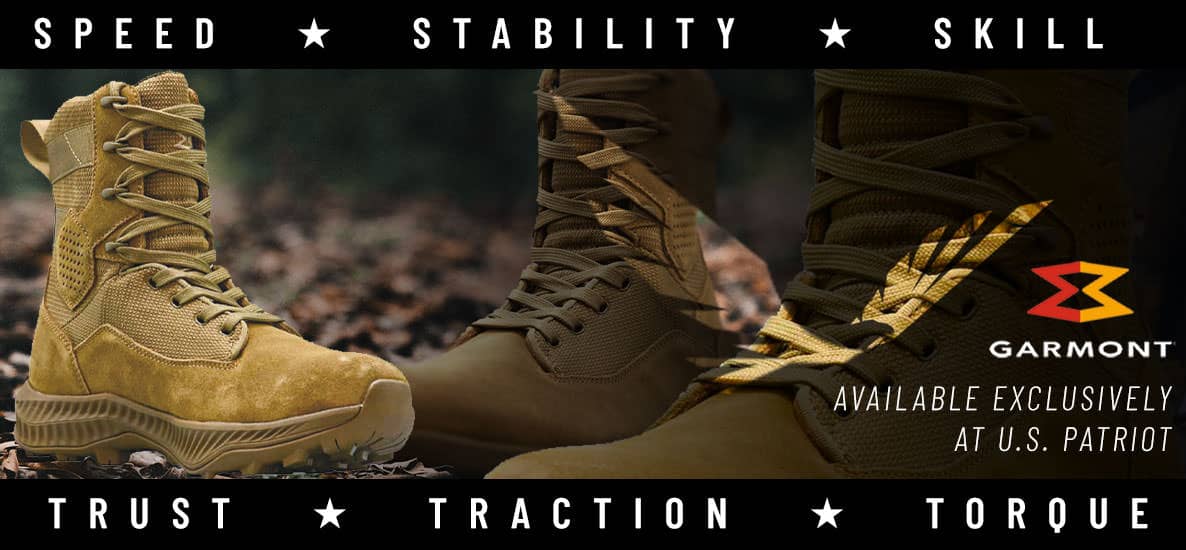 A U.S. Patriot Tactical Exclusive Boot
Since its founding, Garmont has manufactured high-quality boots catered to the veteran tactician. Garmont boots are consistently ranked as one of the most popular and trusted brands that U.S. Patriot carries. Our customers gush over pairs of boots that have lasted them through long tours and beyond.
We are proud to announce our partnership with Garmont in bringing you the Garmont T8 Falcon. This US Patriot Tactical exclusive boot is built tough and ready for action. Read on to learn more!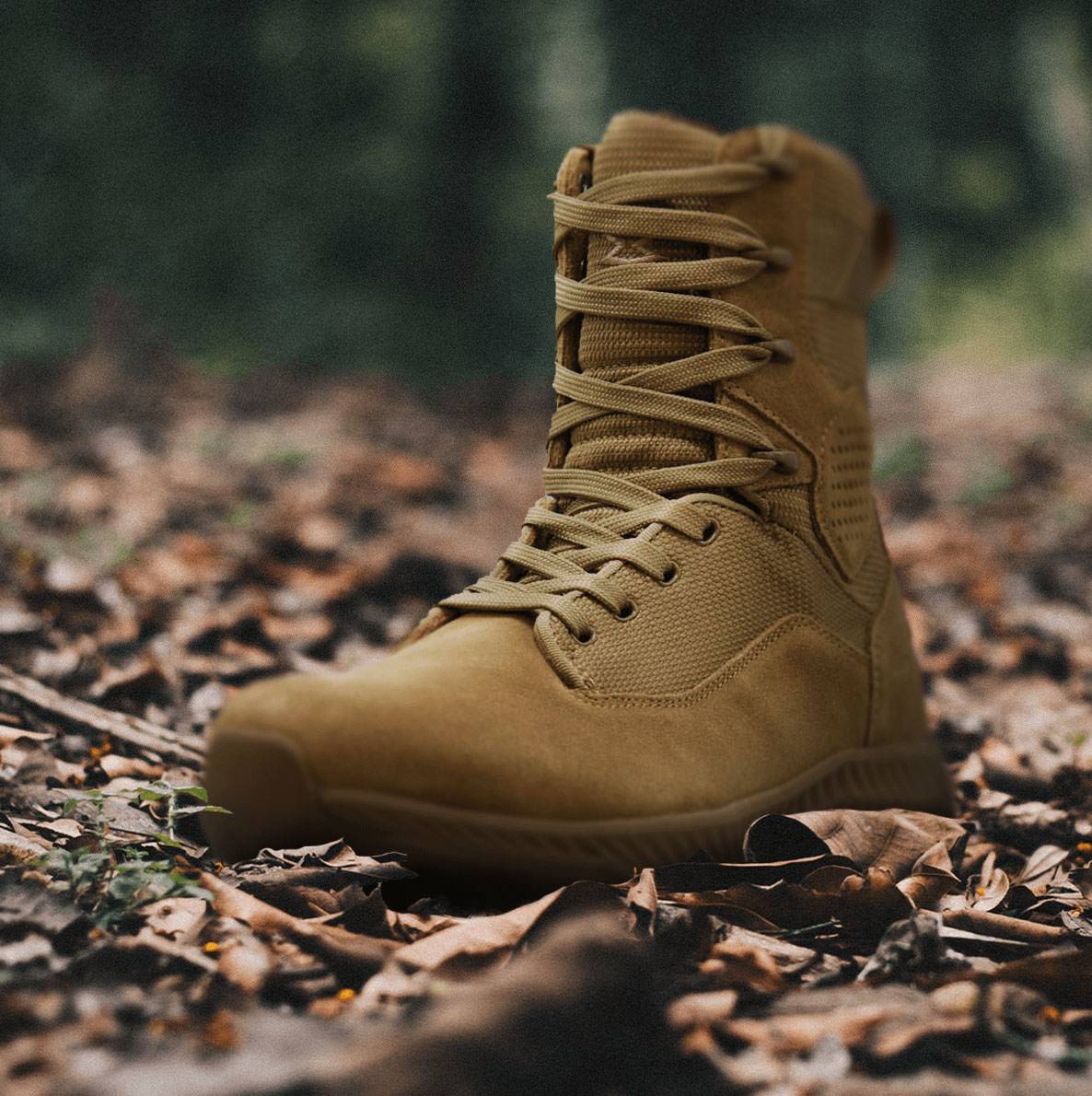 GARMONT T8 FALCON IS GO FOR LAUNCH
Making its long-anticipated debut at SHOT Show 2022, The Garmont T8 Falcon has revolutionized the tactical boot industry. The speed and stability of the Garmont T8 Falcon are unparalleled, with a durable suede upper that features breathable polyester panels and webbed reinforcement. A breathable polyester liner promotes airflow, while a 4mm moisture control PU footbed ensures that the elements never stand in your way. A 100% rubber outsole provides unbeatable traction on slippery surfaces, while an expanded EVA midsole with an anti-torsion shank delivers all-day comfort you can count on.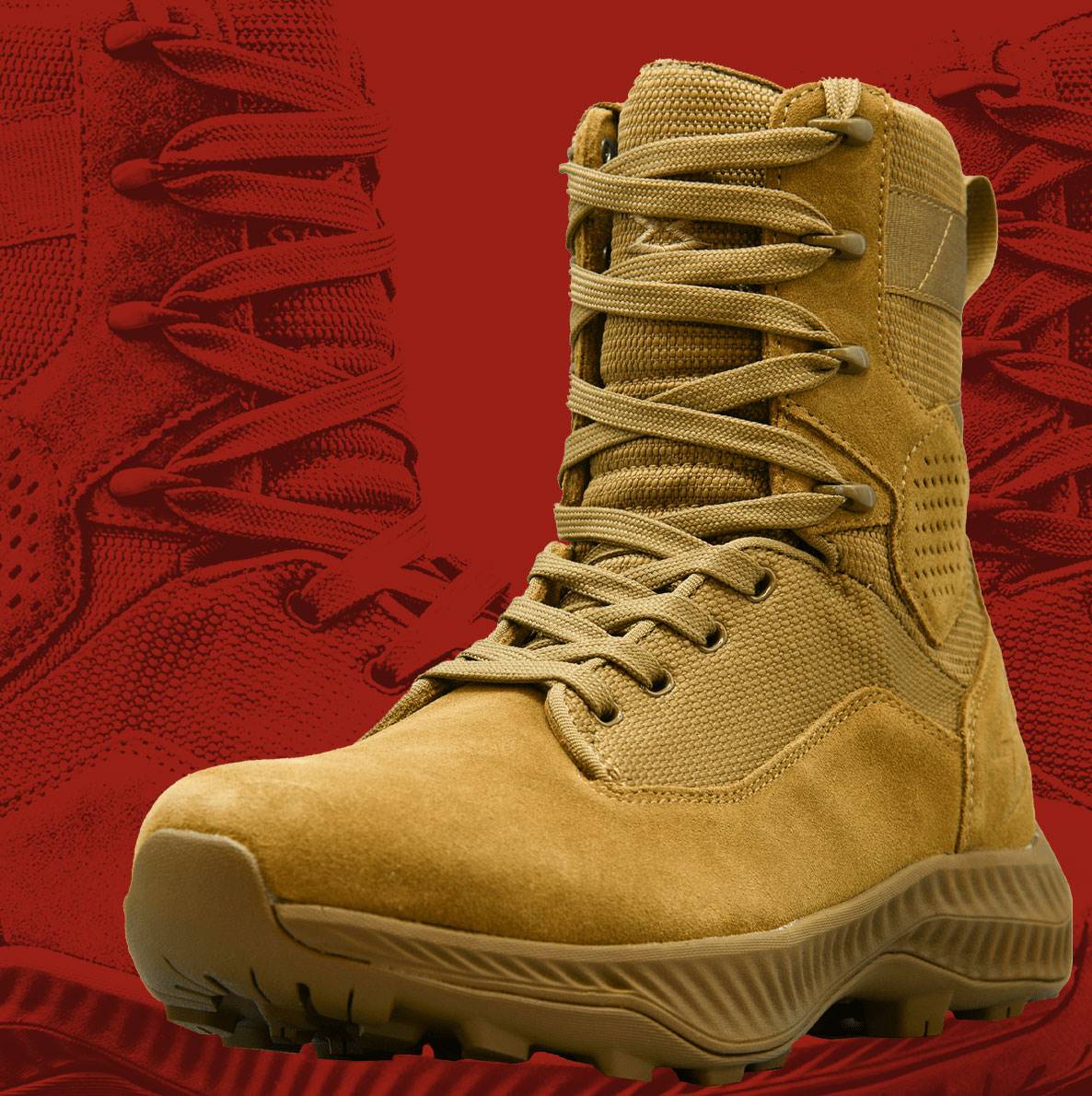 What Customers Say About Garmont T8 Falcon Coyote Boots
Whether youíre rucking 20 miles, with 50+ lbs. of gear strapped to your back or kickiní it on desk duty, the unique Falcon support system will keep you moving toward your goals.
But donít take our word for it. Just listen to what our customers are saying about these Garmont boots:
" Iíve been wearing Garmont T8ís for the last 7 years as my duty boots. I have trudged through deserts, swamps, mountains, and selection. I never put my uniform on without these boots. I was asked to try the new Garmontís, and I was a bit skeptical. They didnít look as rugged as the T8ís. These boots are outstanding. They feel light like running shoes, while tough like the Garmont T8ís. The sole is firm while still comfortable. Currently I am on the trail turning civilians in to infantrymen. I pack the miles on my feet. These boots are saving my feet due to their light weight. I would highly recommend these to anyone." - Jeremy, Drill Instructor
" These boots were comfortable right out of the box. As a ten year Special Operations veteran, I have gone through a ton of boots and have needed boots for many different situations. These are well made, versatile, have good traction, and are very breathable. They were supportive enough for a weighted, cross terrain movement but comfortable enough for a long day on the range or in the shoot house. Overall, I'm very happy with these boots and would absolutely recommend them." - Derek, SF Team Leader
" My initial impression: wow! These boots were comfortable right out of the box. I wear them both in garrison and when I go to the field. They're not the lightest boot (not the heaviest either) but provide the best ankle support out of any boot I have tried. They are well made, have great traction, and are very breathable. Wore them on an 8-mile ruck 3 days after receiving them, not one hot spot at all, and they form great to my feet. The laces are great and so is the padding. My biggest CON to this boot is the tongue design. It is a little bulky and takes some getting used to, but you donít even notice it after a few days of wearing them. All around, an amazing boot. They feel great, breathe great, and don't leave my feet aching when I'm wearing them." - Thomas, ROTC Instructor
HOW THE FALCON FITS INTO THE T8 LINE
The Garmont T8 Falcon can hold its own, but it isnít appropriate for every situation. Letís look at a breakdown of the Falcon compared to other Garmont Air Force and Army boots:
Item Number
002583
002703
002585
Price
$164.99
$149.99
$164.99
Customer Rating
(4.8)
(4.7)
(4.7)
Employee Rating
(4.5)
(4.7)
(4.7)
Pros

AR670-1 Compliant, AFI 36-2903 Compliant, Lightweight, Soft Sole, Fast-Drying

AR670-1 Compliant, AFI 36-2903 Compliant, Comfortable, Every Day Use, Affordable
AR670-1 Compliant, AFI 36-2903 Compliant, Heavy Duty Boot, All Terrain/Mountain Use
Cons
Lightweight, Less Durable
Could be more breathable
Heavy, Thick Outsole
Bottom Line
Amazing Comfort, Great for Athletic and Office Use. Top Level Combat Boot excels in all metrics.
Blends the best of both the NFS and BIFIDA in a long-sought-after update to the T8 line. Solid performance all around. Midweight, supportive, and comfortable.
Best choice for rock, snow, and mountain terrain. Gold standard for off trail hikes and maneuvers.
Comfort
(4.8)
(4.9)
(4.8)
Stability
(4.3)
(4.8)
(4.6)
Traction
(4.0)
(4.7)
(4.8)
Weight
(4.9)
(4.7)
(4.3)
Water Resistance
(4.4)
(4.4)
(4.6)
Durability
(4.3)
(4.6)
(4.9)
Classification
Lighweight, Everyday Use
Midweight, Everyday Use
Heavy Duty, Field Use
Release Date
Updated MAR 2021
NEW FEB 2022
Updated MAR 2021
FINAL THOUGHTS ON THE GARMONT T8 FALCON
As one of the worldís most trusted military boot brands, Garmont has quite a following. This brand loyalty stems from Garmont's ability to blend the comfort of a tennis athletic shoe with the high performance you've come to expect from Garmont duty boots. The Falcon boasts impressive shock-absorption technology and is proven to be true to size as well as a brief break-in period.
With its unbeatable traction, expanded EVA midsole, and anti-torsion shank, Garmont military boot is AR670-1 and AFI 36-2903 compliant and ready to wear with OCP uniforms.
Pair these boots with Danner TFX Hot Weather Drymax Over-Calf Socks for advanced odor and moisture control in arid climates.
The Garmont T8 Falcon: SPEED ē STABILITY ē SKILL ē TRUST ē TRACTION ē TORQUE
Eager to learn more about the Garmont T8 Falcon? Dying to hear more reviews from the average enlisted? Read our Product Review on the blog!