THE ROCKY C4T COYOTE BOOT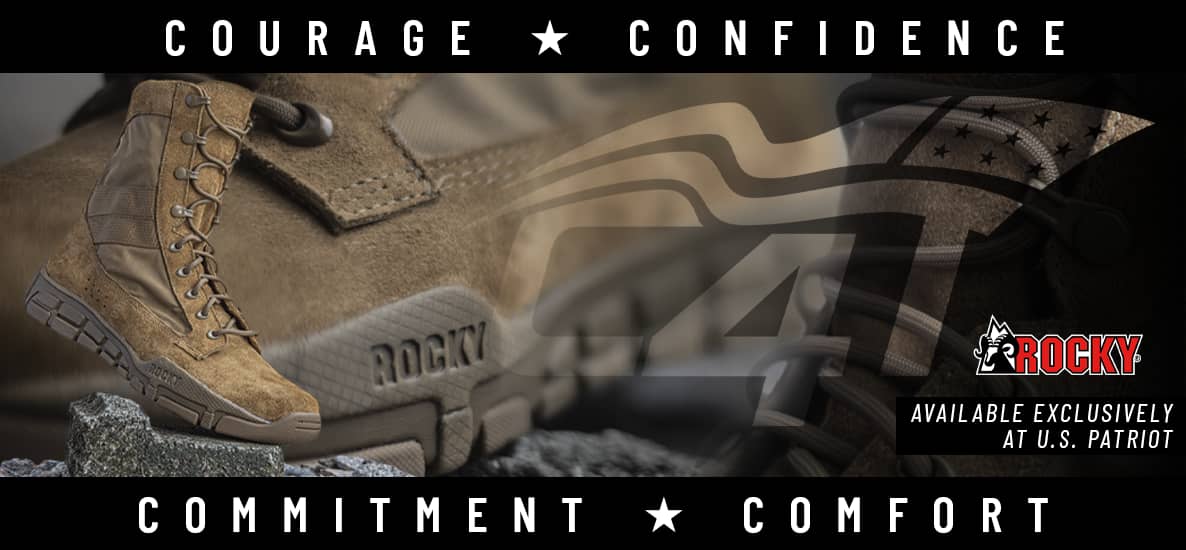 U.S. Patriot Exclusive
For decades, the Rocky C4T was a household name in Service Member homes, and then one day... POOF! Phased out by ever-evolving uniform regulations by the Army, the C4T certainly wasn't lost but it wasn't on the shelves. Year after year we've heard service members ask us "When is the C4T coming back? Those were the best pair of boots I had!".
WHO'S READY FOR A REVIVAL?
We are happy to announce that Rocky Boots and U.S. Patriot are releasing an AR670-1 and AFI 36-2903 compliant model of the popular C4T boots. As a U.S. Patriot EXCLUSIVE, the new Rocky C4T has been fully redesigned to help you focus on the task at hand. This water-resistant and fast-drying military boot is built from the ground up with Veteran input to ensure durability, dexterity, and comfort. From the full-grain, flesh-out leather and 600 D CORDURA® upper to the speed eyelets and NATO hooks that make quick work of the long-lasting 550 cord laces, the C4T has it all without compromising its integrity. The four hallmarks of this boot are emboldened all over the packaging: Courage, Confidence, Commitment, and Comfort.
COURAGE
Available exclusively at U.S. Patriot, the C4T was designed for service members by service members. The respect due to our men and women in uniform is something that Rocky doesn't take lightly, which is why the Oath of Enlistment is printed on the front and back of every C4T box.
CONFIDENCE
When you train hard, a lightweight yet durable shoe is key to maintaining comfort on a tough mission. The Rocky C4T Trainer Military Duty Boot fits the bill - it's the lightest military performance boot Rocky has ever made and built to take a beating. Stay light on your feet as you move with this approved duty boot. Rocky military boots are made to take whatever training can throw at them. These Rocky C4T military boots feature a water-resistant full grain flesh out leather upper with 600 Denier Cordura ® panels for breathability. Cordura nylon fabric is quick-drying and resistant to tears and abrasion.
COMMITMENT
As stated above, the height is 8 inches to conform to military standards. It was imperative to make sure that this boot was not only a revolutionary training boot but also maintained AR 670-1 & AFI 36-2903 compliance. The upper is crafted from 100% cattlehide leather and nylon fabric. The midsole has an expanded TPU, designed to heighten your resiliency and rebound quicker than before. We could go on for days about the meticulous attention to detail put into the construction of this fabulous piece of footwear, but the sole of the boot is where this product shines. The outsole is constructed of 100% rubber, made for PT. The insole has a removable molded EVA.
The Rocky C4T's 8" boot height is made to support your ankles during rigorous training and the 100% EVA/rubber outsole resists abrasions, oils, and slips, so you can navigate slick and unpredictable terrain with confidence.
COMFORT
Lacing may seem like a minor detail to some, but it's important when you need to get out the door quickly to start a day of rigorous work. Since time is of the essence and long-lasting laces are essential, Rocky designed this military boot with the following features:
Speed lace eyelets
NATO hooks
Durable 550 paracord laces
Lightweight, supportive, and ready for anything, the Rocky C4T Trainer Military Duty Boot won't let you down. The Rocky C4T is one of a wide selection of Rocky military boots that will keep your feet safe under tough conditions.
Eager to learn more about the Rocky C4T Revival? Read our Product Review on the blog!